2001 CMO NEWS HEADLINES
---
A. Edom Brightening on 7 and 8 June
1 ) Edom Brightened on 7 June, Don PARKER Reports !
2 ) Tom DOBBINS Reviews the Data at the Florida Keys, and Suggests Further Possibilities of the Edom Brightening in July and August.

3 ) The Sequence of the Edom Flares on 7 June at the Florida Keys, Tom DOBBINS Reports (Images Are Processed by David MOORE)

4 ) A Photometry Expert Comments on the Edom Images, as Bill SHEEHAN kindly forwarded.

5 ) DOBBINS Responds to Andy YOUNG's Remarks

6 )Tom DOBBINS Alludes to the possible Flashes in 2003;

7 )Polarization of Martian flares

---
---
B.
Yellow Dust Cloud
3 ) The Images Taken around the World of the 2001 Dusty Mars are Piled up Still in This CMO Web from 24 June 2001 through 7 April 2002.

Click here
2 ) MGS Proved a Gradual Warming near the Northern Hellas from 24 June, T Z MARTIN (NASA) Reports;

Click here
1 )Yellow Dust Cloud Started on 24 June as the CMO Members Observed!
Index of Director's Reports
Final updating on 24 July
Click here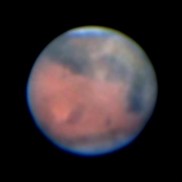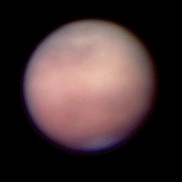 KUMAMORI's Images
(left) 27 June 2001 at 13:11 GMT
LCM=248°W Ls=185°
(right) 3 July 2001 at 12:31 GMT
LCM=186°W, De=6°N, 189°Ls
App. Diam=20.4" , Ph Angle=17°
Both are composite images made from about 200 frames
taken by the use of a 60cm Cassegrain (at the Sakai City Observatory)
equipped with a Sony TRV-900 Video Camera
---
C.
The 9th CMO Meeting of the Mars Observers was successfully held at Okinawa on 20, 21 and 22 July.
Click here
---
Turn to the Façade / Turn to the CMO Home Page
---