---
Martian Drawing on 06 August 2003
at 06:30~06:50 GMT by Jeffrey D BEISH.
λ=236゚Ls, (ω=260°~265°W, φ=20°S), δ=23.2", ι=20°
Note:
SPC clear. Novissima Thyle separated by Rima Austrialis. Argenteus Mons bright at northwest edge of SPC and Rima Angusta bordering Argenteus Mons. Several rifts or dark streaks in SPC.
No NPR hood seen. No clouds, no limb haze. BC =1.
Seeing =6-7. Transparency = 5, Altitude 48°.
T=25°C
41cm f /6.9 Newtonian, 520x
Wratten Filters: W23A, W25, W33, W57, W64, W38A, W47.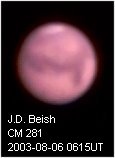 Attached image is my first try with QuickCam Express camera. I expect a new Camera, similar to the ToUcam, any day now with a CCD chip. Maybe more image processing too. Image taken with 16" at f/29: at 2003-08-06 0615 UT, CM 281

The Beish Observatory is located (81°19'34.7"W, 27°21'07.1"N) at Lake Placid, FL, USA.
---
See Images on the Right-Hand Side / Back to the Index
---