LtE in CMO #2
60
From  Jeffrey D BEISH
---
© . . . . . . . . . .Date: Fri, 26 Apr 2002 -0400
From: "Jeff Beish" <jeffbeish@htn.net>    ©
To: "Masatsugu Minami" <vzv03210@nifty.com>
Subject: Fw: Potentially unsafe content: Spice girls' vocal concert
 You have a virus Masatsugu, you need to scan.
Jeff Beish
----- Original Message -----
From: "security" <security@htn.net>
To: "jeffbeish" <jeffbeish@htn.net>
Sent: Friday, April 26, 2002
Subject: Potentially unsafe content: Spice girls' vocal concert
 A message sent to you by VZV03210@nifty.com was scanned for potentially harmful content.  The suspicious attachment has been removed from the original message.  The cleaned message is attached in this message.  Contact your postmaster for more information. Scan report:
 Virus 'W32/Klez.H@mm' in gradpurp.bat
© . . . . . . . . . .From: Jeff Beish
To: Masatsugu MINAMI
Sent: Sunday, April 28, 2002
Subject: Re: Re : VIRUS ALERT
 Masatsugu, you have done nothing harmful and this is not your fault.  The virus did not affect my PC because my e-mail server (ISP) uses up-to-date anti-virus protection and I too use McAfee's on-line and active shield, anti-virus protection.  So, I did not get infected by the virus.  You were not aware of this worm/virus because it cloaks itself and used your address book to send out messages.  No problem, I advise using Norton or McAfee on-line anti-virus service. I pay $19.95 yearly for McAfee on-lime service.
 I have not heard about any problem with 6 May.  I will research any virus that contains a warning for that date and let you know later.  Take care my friend and stay in good health.
© . . . . . . . . Date: Sat, 04 May 2002 -0400
From: Jeff Beish <jeffbeish@htn.net>
To: Masatsugu MINAMI <VZV03210@nifty.ne.jp>
Subject: RE: VIRUS ALERT
 No problem Masatsugu, we all fall victim to life.
<![if !vml]>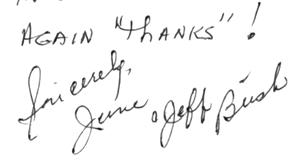 <![endif]>© . . . . . . . . How can we ever say "thank you" for a great afternoon and dinner in Yokohama. We shall treasure these memories always.
 You are always welcomed in our home. Again "Thanks"!  
 Sincerely                                                    June and Jeff                                                                                          
 (4 May 2002)
---
  Jeff BEISH  (Lake Placid, FL, USA )
ALPO Mars Section,  ALPO Computing Section
---