LtE in CMO #25
6
From Samuel R WHITBY
---
@. . . . . . Thank you for forwarding the Jupiter images. <![if !vml]>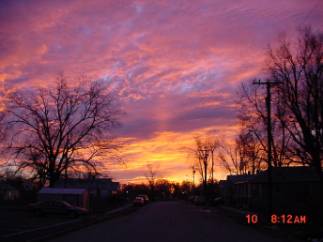 <![endif]>Perhaps you will enjoy the attached photo of morning twilight and solar pillar.
 Best wishes,
This digital photograph was sent using PhotoSuite 4.  See Web & PC Photography Made Easy at http://www.photosuite.com !
To view the attached photo, you can:
a) save it to a folder on your hard disk and then open it in a program that supports this type of photo, or
b) double-click the attachment and follow your e-mail program's instructions.
(15 January 2002 email)
---
Sam WHITBY (Hopewell, VA, USA)
---