LtE in CMO #2
82
From  William Patrick SHEEHAN
---
® . . . . . . . . . Date: Wed, 5 Nov 2003 07:14:29 -0600
<![if !vml]>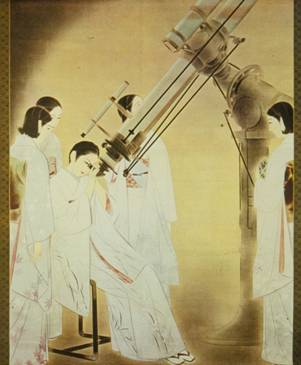 <![endif]>Subject: painting identification
Dear Masatsugu,
   Mars is finally a bit out of the way and things are more restful, astronomically.   I will be posting all my Mars drawings with the Lick refractor on a web page next few days and will inform you of their whereabouts.    Meanwhile, Rem Stone, one of the astronomers at Lick, showed me this exquisite painting, of which he got a copy when he lived in Japan a year (learning Zen archery), but couldn't identify it.  Do you know it or where it came from?
   Warm regards,
. . . About a painting about a telescope and women:
  It is well known here and it was once used as a design of post-stamp (in
1990?, and so we used it once to send the CMO; attached here an<![if !vml]>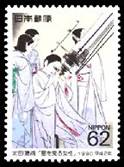 <![endif]>
image). It was painted in 1936 by a painter called Cho-u Oota (1896
-1958). It is owned by the National Modern Art Museum in Tokyo (273 x
206 cm). As you see the telescope is realistic. It was drawn based on
a real sketch of the famous 20 cm refractor of the National Science
Museum at Ueno in Tokyo which was built in 1931. The refractor was
made by Nikon (Nippon Kogaku) and is still working (once overhaulled).
Sadao MURAYAMA (1924 - ), now retired, worked for a long time for the
Museum and it was by the 20 cm refractor that the young pair of
MURAYAMA and EBISAWA detected the 1956 great dust disturbance on 20
August 1956 and took the Tri-X pictures of the dust storm. (Mn)
---
  Bill SHEEHAN  (Willmar, Minnesota, USA )
---