LtE in CMO #284
From Prof Agustín SÁNCHEZ LAVEGA
---

® . . . . . . . .Date: Mon, 1 Dec 2003 15:15:24 +0100 (MET)
Subject: Saturn Spots Update
Dear observers,
<![if !vml]>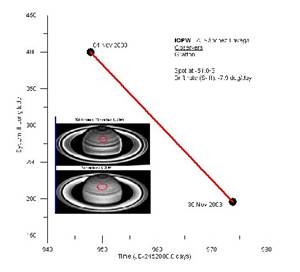 <![endif]>
Enclosed are the identification and drift chart of Saturn's major spots tracked last months from images arrived at IOPW.
A new spot is identified at -51 deg latitude (captured by Ed Grafton). It fits well the Voyager and HST wind profiles at this latitude.
<![if !vml]>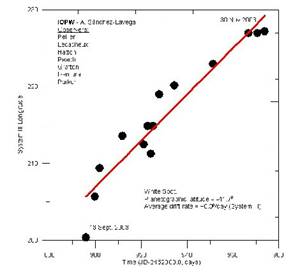 <![endif]>
The Spot at -42 deg latitude is still bright.
New spots have been identified at -29 deg (red and green circles). It seems that these latitudes are becoming active in white spot activity. One of these spots survives since <![if !vml]>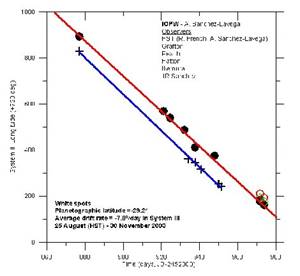 <![endif]>HST observations in August.
I'm asking your efforts since HST new observations will be done between 4 and 6 December.
Best
Refer also to EGf's LtE in #282
---
Agustín SÁNCHEZ LAVEGA (Bilbao, Spain)
---