LtE in CMO #2
89
From  Donald R BATES, Jr
---
® . . . . . . . . .Date: Wed, 3 Mar 2004 16:49:17 -0600
Subject: Jupiter and Saturn Images from Bates
Dear Planetary Colleagues:
Please see the (2) recent images taken from Houston with my 250mm Reflector and ToUcam Pro. I am using some of the features of Registax that I never got around to learning during the Mars encounter. I never cease to be amazed at how much detail can be brought forth with good raw frames and careful processing!
<![if !vml]>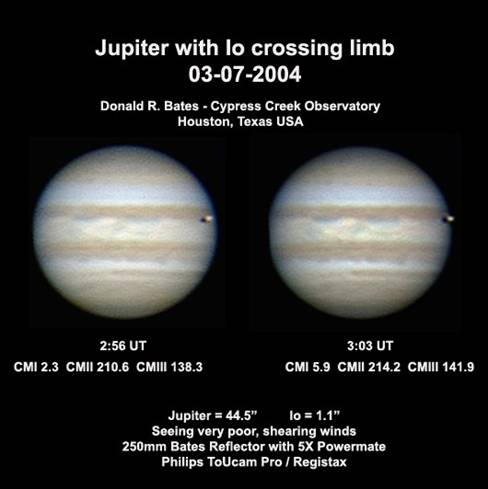 <![endif]>
As always, comments appreciated.
Good health, good fortune, and good seeing!
® . . . . . . . . .Date: Tue, 9 Mar 2004 11:34:52 -0600
Subject: Jupiter with Io crossing
Latest image under poor seeing and altitude of only 39 degrees. Io is crossing the limb of Jupiter.
Good viewing!
---
  Don R BATES, Jr (Houston, TX, USA)
---