LtE in CMO #250
From Maurice VALIMBERTI
---
@. . . . . . A couple of days ago I received the CMO #247 journal. Thank you for sending it to me - from reading it appears a very <![if !vml]>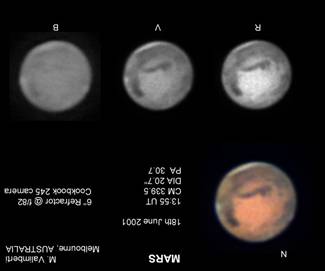 <![endif]>comprehensive and detailed account of the events of the period.
 As we have been clouded out here for the past three weeks, I have had no observations to contribute. Monday proved clear though, so I did manage to obtain some images. Unfortunately my B filter is damaged and awaiting repair, so I'm afraid that I cannot provide B data for a week or so. I'm sure that Barry Adcock will forward the current images to you as he receives them from me.
 I have attached some older images for your record - just before the start of the dust storms - as I am not sure if you have them.
 Again, thank you for your journal.
Kind regards
(15 August 2001 email)
---
 Maurice VALIMBERTI (Victoria, Australia)
---