<![if !vml]>

<![endif]>
Ten Years Ago (101)
- CMO #141 (25 January 1994) -- CMO p1343 ~p1354 --
<![if !vml]>
<![endif]>
The year 1994 was a dog year, and so the cover of this January issue shows "Canis Mj" drawn by MURAKAMI (Mk) - the dog year visits every 12 years, and hence the next one will occur in 2006.
<![if !vml]>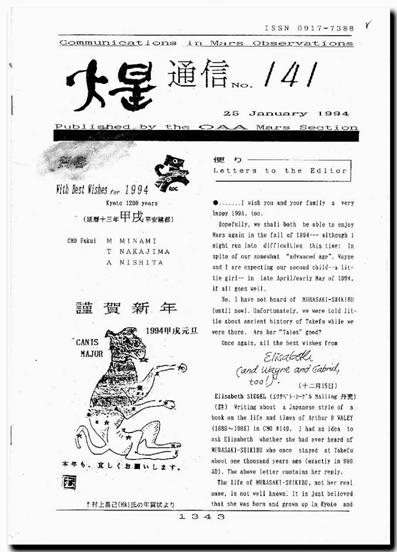 <![endif]>  In 1994, the City of Kyoto, where MINAMI (Mn) was concerned (educated and worked) for 45 years from 1957 to 2002, celebrated the 1200th Anniversary of the establishment of the Heian-Kyo (built in 794 AD). So as a Note to Elisabeth SIEGEL (ESg)'s LtE, Mn wrote about Murasaki-Shikibu, a woman writer in the Heian period, and her great novel called "The Tale of Genji". This was first translated into English by Arthur WALEY in the 1920s. Murasaki is known to have once stayed at Takefu, Fukui, in 996 AD, and Takefu was the city ESg visited with her family in 1993.
Another LtE is given by MORITA (Mo), who received a kind letter from Professor Audouin DOLLFUS informing that "the whitening of the area of Elysium and North was also observed at Meudon." The photo detailed was the one taken on 8 Dec 1992 (λ=008°Ls) at ω=216°W by DOLLFUS himself by the use of the 100cm T at Meudon. This was a correspondence to MORITA's observation made on 12 Feb 1993 (detailed in #140: cf TYA 100), and some additional notes were given here in #141 since DOLLFUS's correspondence aroused a new interest.
A third letter cited in LtE was sent from Richard McKIM (RMk), Director of the BAA Mars Section: His was concerned about the measurements of the size of the npc in 1992/93, and here he provided the BAA data on the latitudes of the S edge on the CM compared with the results of the E-W diameter of the npc. He seemed he inclined to believe that the S edge method was more reliable than the E-W method. Here we cite the regression trend based on the BAA data in 1992/93 plotted in our way.
<![if !vml]>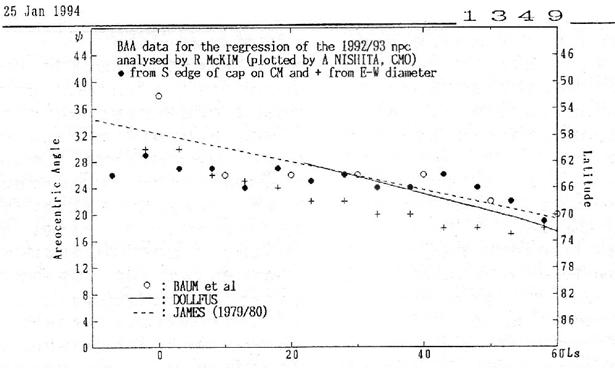 <![endif]>

LtEには他に山本進氏、坂上務氏(『火星通信』には・・・充実と共に余裕を感じます)、日岐敏明氏のお便りがある。日岐氏のは比嘉氏の1992年のVIDEOを見ての感想である。新年だから賀状短信もあるが、阿久津氏、森田氏、淺田氏などccdへ移行のようである。OSAWAさんの賀状もある。熊森氏は、四十四歳だそうである。2004年には五十四歳ということになるナ。
 『夜毎餘言』XLIIは「續・詩人M氏」で、四頁ほどある。Mとは三好達治のことで、彼の三國流竄の時代(1944年~1949年)のことを書いたもの(殁後三十年)。これは後にCMO-Webに載せた。
http://www.kwasan.kyoto-u.ac.jp/~cmo/cmomn0/Zure18.htm 
 (Mn)
<![if !vml]>

<![endif]>
Back to CMO #287 Home Page / Back to the CMO HP / Back to Faēade
<![if !vml]>

<![endif]>