Most of the oversea participants will be staying at Kyoudai-Kaikan (conference venue) or Seifu-Kaikan or Shiran-Kaikan. All these "Kaikan" (hall/accommodation) are located near the Kyoto University Campus and they are in walking distance each other.

From Airports to Kyoto
For those who arrive at Kansai International Airport (Osaka), the usual way is to take train to Kyoto station. There are two railway companies oparating from the airport; Japan Railway West (JR West) and Nankai Railways. The only direct service to Kyoto is "Airport Express HARUKA" run by JR West. Approximate travel time is 70min. Please look at the access infomation of Kansai International Airport.

If you are flying to Narita airport (Tokyo) and then take ground transportation to Kyoto, take JR's Narita Express to Tokyo Station (or Shinagawa-Station) and then change to Shinkansen Express to Kyoto. Approximate travel time is 1 hour between Narita airport and Tokyo, and 2.5 hour between Tokyo and Kyoto.
Access information of Narita Airport

From Kyoto station
From Kyoto station to the University area, there are three options.
Bus
30-40min.
Take city bus 206 [bound for "Kitaoji-Bus Terminal Higashiyama St."] from bus terminal D2 to "Kyodai Seimon Mae" bus stop. All the "Kaikans" are in walking distance (see the maps below). If you are going to Seifu-Kaikan, "Hyakumanben" stop (next to Kyoudai Seimon Mae) is slightly closer.


Taxi
20-25min. Approximately 1,800yen.


Subway → Bus
10min. plus bus 10-15min.
Take the subway [bound for "Kokusai-Kaikan"] to "Imadegawa Station".
Take exit No.3 and turn left.
Take city bus 201 [bound for "Hyakumanben-Gion"] to "Kyodai Seimon Mae" bus stop.

Local maps
Here are the maps. Click the images to enlarge.

From Kyoto station to Kyoto university area.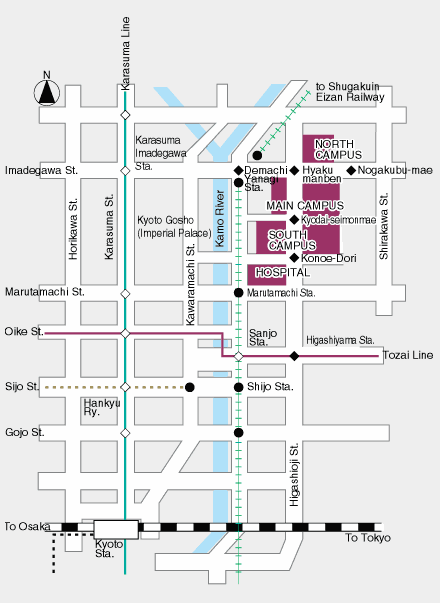 Location of Kyodai-Kaikan, Shiran-Kaikan, Seufu-Kaikan.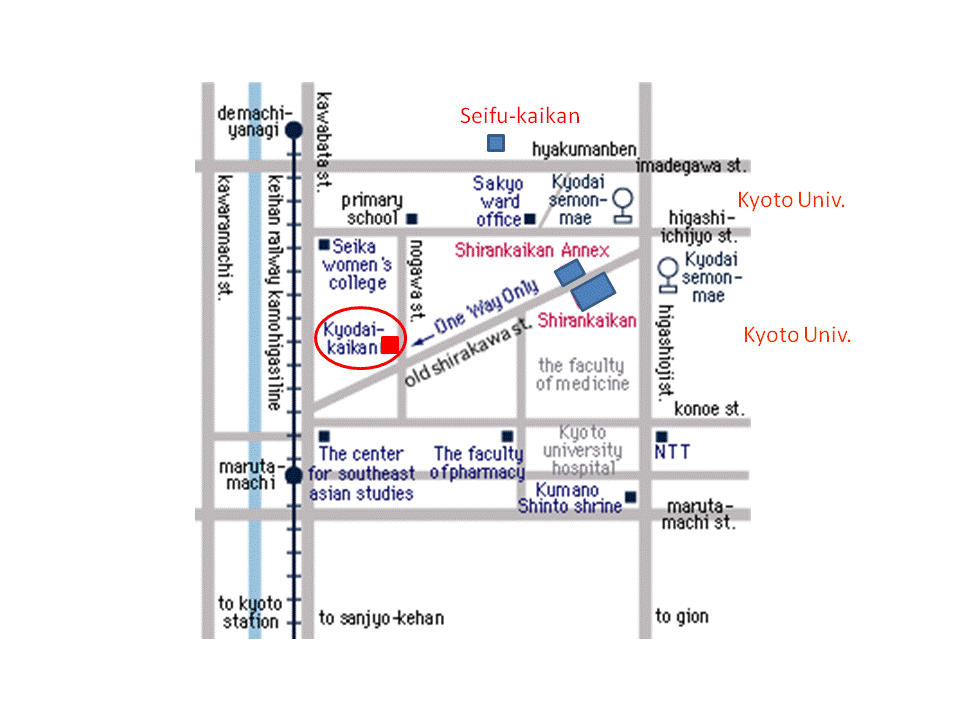 Detail map for Seifu-Kaikan.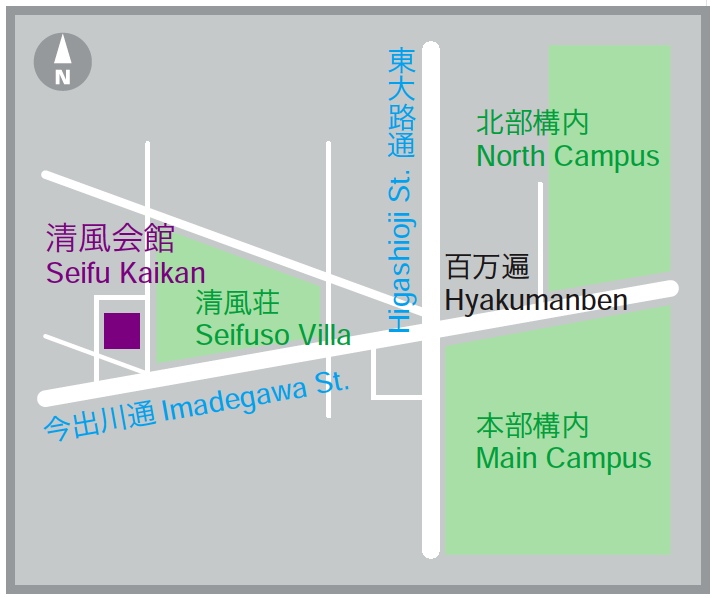 Useful links:
Useless links:
No webpage for Seifu-Kaikan.