---
The nearest station to the Kwasan observatory (kyoto) is Keage station of the subway "Tohzai line" From Keage station, it takes about 40 minutes to reach to the observatory on foot. However, the condition of the road is not good (steap slopes and without a sidewalk), so we strongly recommed you to come by taxi, or your own cars.
(Free-ride shuttle service is available on the open day.)
---
The map on the right shows the way to the Kwasan observatory and the neighboring facilities.
---
If you take a taxi, please tell the driver to go to "The entrance of Agonshu (temple) on the Higashiyama drive way", since most of taxi-drivers do not know Kwasan observatory.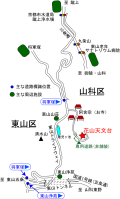 ---
Since any use of motorcycle is forbidden on the "Higashiyama drive way" thorough which every one should drive to the observatory. Do remember not to come with your motorcycle.
---
We will not take any responsibility for any kind of troubles that happen on the way to/from the observatory, including the troubles in the parking areas. Please do not leave your important belongings in the parking areas.